Benefits of an outdoor kitchen on composite decking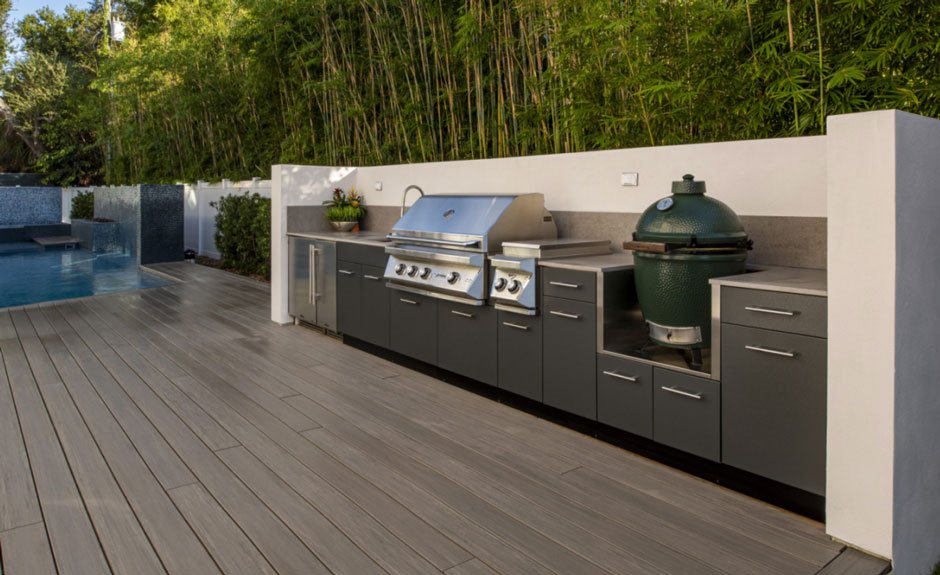 Adding an outdoor kitchen to your composite deck can make an outdoor space look more beautiful and functional. Outdoor kitchens are the icing on the cake of decorating and can provide a space to enjoy cooking and living. Composite decks are a much more suitable material when considering building an outdoor kitchen.
With the advancement of technology and materials, you can absolutely build a fully functional outdoor kitchen on composite decking. In the next article, we will discuss in detail the advantages of building an outdoor kitchen on composite decking.
Benefits of an outdoor kitchen on composite decking
Outdoor kitchens have become more and more popular, and more homeowners are looking to build a kitchen in their outdoor space. Composite decking can really bring out the best in an outdoor kitchen.
Durability
Most manufacturers of composite decking offer homeowners a more sturdy and durable deck. Its unique design allows it to withstand all kinds of extremes, thus providing better resistance to rot, mold, and moisture.
It effectively prevents cracking, warping, and rotting problems and prevents fading and staining. These excellent features ensure that your outdoor kitchen stays in good condition even with use. Additionally, composite decks are able to withstand heavy pressure and spills, making them ideal for outdoor kitchens.
Lower maintenance costs
As well as being strong and durable, lower maintenance costs are also a key benefit. Unlike traditional wood decking, which requires regular staining, sanding, and sealing. Composite decking only requires regular cleaning and washing to maintain its appearance. The ease of cleaning is perfect for outdoor kitchens, and it makes cleaning up after meals much easier.
Composite deck boards are also resistant to cracking and warping, making them safer for use in outdoor kitchens. To some extent it also reduces the cost of subsequent repairs and replacements. It further reduces maintenance costs. Creating an outdoor kitchen on a composite deck is so you can spend more time enjoying it.
More aesthetically pleasing
This new deck material comes with a wealth of colors, looks, and textures to choose from. Homeowners are able to create an aesthetically pleasing outdoor kitchen based on their personal preferences. You can choose materials that complement the overall design and match the style of the design. Whether you prefer a modern, sleek look or a traditional, natural texture. Composite materials will meet your preferences.
It has a wide range of uses and styles. It can easily create a more beautiful and practical outdoor kitchen. Let people enjoy the fun of outdoor cooking.
Safer
As manufacturing technology continues to improve, the quality of Composite decking becomes more and more outstanding. In outdoor spaces, especially in outdoor kitchen environments. Safety is always a top priority and Composite decking boards offer a wealth of safety benefits. It is therefore the preferred choice for outdoor kitchens.
Unlike the smooth surface of traditional wood decking, it has excellent anti-slip properties. So it provides a safe and stable surface for cooking and entertaining. And it won't splinter as easily as wood, minimizing the risk of injury from walking barefoot.
Heat resistant
Composite materials are made from a blend of wood fibers and recycled plastics, so they are well insulated from heat. Its heat resistance makes it more comfortable to walk on hot summer days, reducing the risk of burns. And it has excellent resistance to high temperatures. High temperatures are common in outdoor kitchens, and the heat resistance makes it safer and more secure for homeowners to use and cook with.
Versatility
Using a composite deck not only enhances the visual appeal of an outdoor kitchen, it also adds more utility. It supports customization and can be added with a variety of features and amenities. Consider adding built-in grills, sinks, countertops, and lounge areas to your outdoor kitchen design.
Composite decking boards can withstand the extra weight and functionality. Providing a stable and sturdy foundation for your outdoor kitchen.
Environmentally friendly
Most composite decking is made from a blend of recycled materials, making it a more environmentally friendly choice. Choose composite materials for your outdoor kitchen. This reduces the need to cut wood and minimizes the need to protect the environment.
It is also safer and healthier as it does not require the use of chemical-laden products for maintenance and upkeep.
Considerations for designing an outdoor kitchen
Determining the best location
Before designing an outdoor kitchen, you need to determine the size of the deck and kitchen. Consider where to place the kitchen and measure the space carefully to determine the best area for the kitchen.
Understand the deck's load-bearing capacity
Although composite decking has excellent load-bearing capacity. However it is vital to have a clear understanding of its load capacity. This can help homeowners determine the furniture and kitchen designs that are suitable for use on the deck. Effectively prevent damage and sagging of the deck.
Determine the Layout
Depending on the size of the deck as well as the outdoor space, determine the layout of the kitchen. Choosing a more practical layout will enable you to make the most of your kitchen space.
Conclusion
Building an outdoor kitchen on a composite deck has many benefits. It's durable, low-maintenance, beautiful and safer. Giving you a long-lasting and more functional outdoor kitchen. Enjoy the durability, easy maintenance and beautiful design of composite decking in your outdoor kitchen. Create memorable moments with family and friends in a space you can be proud of.