Smart Devices and the Internet of Things (IoT) in Social Commerce
If you haven't heard of the concept of the Internet of Things or have heard but want to know more about it, then you are at the right place. The world is changing ever since AI has taken a new shape to modify it in a completely new direction. There are significant impacts of this rise on Social Commerce that came with the help of Smart Devices and the Internet of Things. 
But we are not yet fully occupied and involved in these things as it's a development and testing phase right now. 
Who knows what could happen in the near future? So, stick with me and let me help you understand the impact of Smart Devices and IoTs in Social Commerce.
What is the Internet of Things in Social Commerce?
IoT includes all those things that enable us to do online shopping from the comfort of our homes. 
From accessing Wi-Fi to using our mobile device, tracking orders to getting notified with the help of messages and everything that matters. 
In Social Commerce, these devices have a huge impact on our daily purchases and making things better. IoT comprehensively includes the following items in order.
Video Cameras

Voice Recognition Devices and Assistants

Wi-Fi

Wi-Fi Tags

Smart Sensors

Facial Recognition Software and devices

Parking Space Sensors

Fire Alarms

Burglar Alarms

Door Hinges

And more
All of these things, and some not named, are called the Internet of Things. 
These are the things that basically make the entire internet and enable us to do convenient shopping from anywhere in the world.
What are The Benefits of Using Smart Devices and IoT In Social Commerce:
Social Commerce is taking a new dynamic approach as more people are interested in buying from Social Media Stores than they were ever interested in buying from e-commerce stores. People are engaged with these stores because they are easy to find, rely on and comfortably approachable. 
Here are some key benefits of using Smart Devices in Social Commerce and shaping your shopping with the Internet of Things.
Comfort Of Easy Shopping
With Voice Recognition Devices, you can just ask your home assistant to search, describe and order any product you want from any Social Media Store. 
You can use these smart devices with AI-powered assistants that will help you find your desired products with the help of your voice. 
You don't need to type anything. Just say, "Hey Siri" or "Hey Google", and your voice assistant is ready to guide you on the right path.
Operate Your Devices From Anywhere
Now, with excellent IoT devices, people can make purchases from anywhere in the world. They just need a good Wi-Fi connection, a good smart device and the address to your store. 
With these smart devices, they can look at your products, get briefed or comprehensive information and add to cart their most needed products on the line. 
This means IoT has made shopping much easier, no matter whether you are sleeping or traveling. You can order any product from any social media store anywhere on this planet. 
It's as easy as increasing your Instagram store likes when you post content which educates your customers.
Devices Can Inform You About The Health of Specific Products
Those smart IoTs installed in your house notify you when a specific product has lost its life and needs a replacement. 
These smart voice recognition devices know when a certain product loses its warranty or goes damaged to inform you so that you can make a replacement anytime.
Password Protection with Facial Recognition
Ever used the Face Lock Feature on your iPhone? This brings a great advantage for social media store owners, where they can add an extra layer of protection to sensitive information and consumer data. 
This comes through adding an extra layer of face lock protection for store owners. This smart feature is also a part of IoT, which enables store owners to do their commerce work in a bit more secure and easy way in the long run.
In-Store Mobile Apps
Applications that bring stores in them are also widely used by consumers. 
Consider installing an Amazon or Daraz app on your device, and you will have the list of all the stores, whether operating from America or Asia. 
These smart apps bring everything to one place. You can do online shopping, add your desired products to the card, do the billing, and, more importantly, you can track your delivery package status.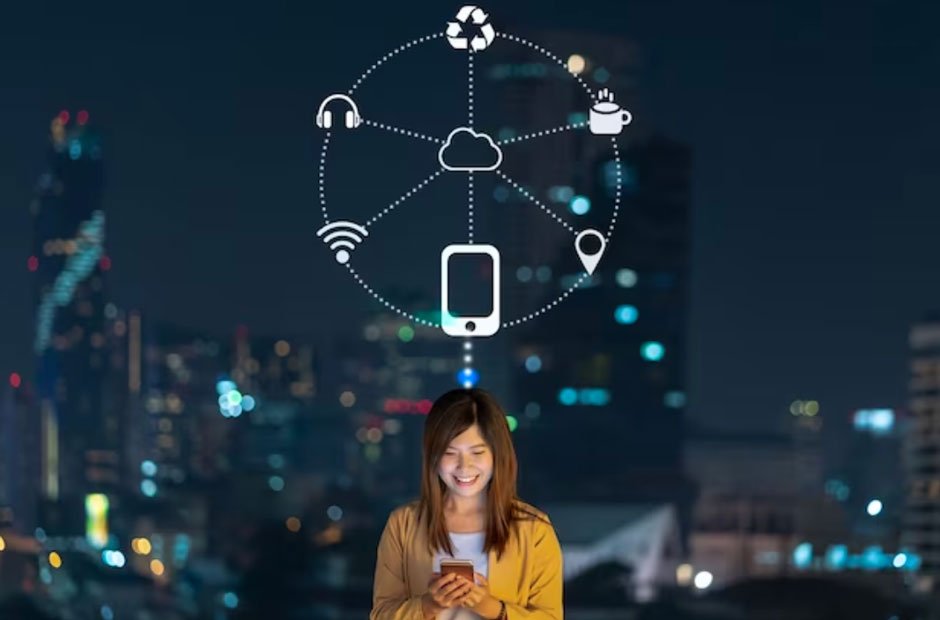 These apps bring a seamless experience for everyone out there who is fond of doing Social Commerce Shopping.
Undoubtedly, there are hundreds of benefits aligned with using Smart Devices and IoT things to make social commerce an ever-liked charm. 
Stores or customers who benefit from technology always feel happier and more comfortable than people who don't.
Last Words:
IoT will change the world and means of doing social commerce in the coming future. More personified means of advertising will be placed, and concepts of VR and AR will be fully put into practice. You can imagine having Virtual Stores and Live Shopping features in the near future that will enable you to enjoy store-like experiences from the sofa you are sitting on inside your home!