The Benefits of Shade Sails and How to Choose the Right Shade Sails Cloth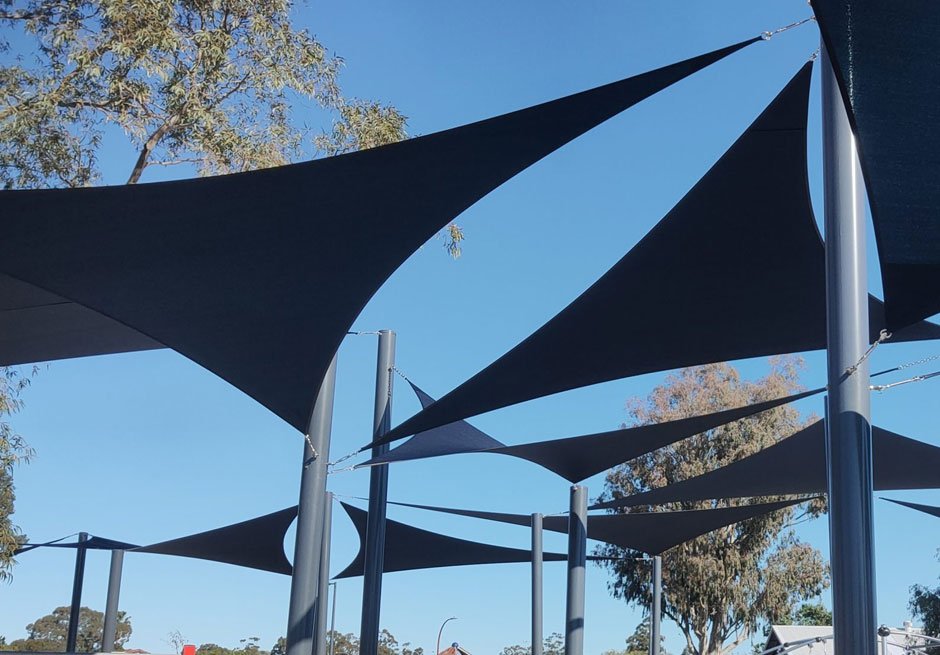 Shade sails are an outdoor shade structure becoming increasingly popular due to their functional and aesthetic qualities. They are typically made of high-density polyethylene (HDPE) fabric stretched taut between several attachment points, creating a concave shape that provides shade and shelter.
Shade sail cloths are popular because they provide an affordable way to protect people and outdoor areas from the sun's harmful UV rays. They are also highly customisable, with various sizes, shapes, and colours, making them versatile for outdoor settings.
Another reason for the increasing popularity of shade fabric is its aesthetic appeal. They are available in various colours and designs, which can enhance the look and feel of any outdoor area. They can create a stylish and modern outdoor living space or add sophistication to a commercial property.
Benefits of Using Shade Sail Cloth
Shade sails are an increasingly popular outdoor shade solution that can provide a range of benefits to your property. Here are some of the critical benefits of shade sails:
Shade sails offer excellent protection from the sun's harmful UV rays. UV rays can lead to extreme skin damage, increasing the risk of skin cancer, so installing a shade sail can help keep you and your family safe while enjoying outdoor activities.
Shade sail material can significantly reduce the temperature of outdoor spaces, providing a cooler and more comfortable environment. This can be especially useful during hot summer when outdoor spending can be uncomfortable.
These fabrics come in various colours, shapes, and sizes, making them a versatile shade solution that can complement any outdoor space's aesthetic. They can be installed in multiple settings, including over patios, decks, pools, playgrounds, and more.
These are less expensive than other shade solutions, such as traditional roofing or awnings. They can also be easily installed and require minimal maintenance, making them a cost-effective option for outdoor shade.
Environmentally friendly option: Shade sails are an eco-friendly shade solution made from recyclable materials and have a lower environmental impact than other materials used for shade structures. Additionally, they can help to reduce energy consumption by reducing the need for air conditioning or other cooling methods.
Overall, shade sails are an excellent choice for anyone looking to add shade and aesthetic appeal to their outdoor space while providing protection from harmful UV rays and lowering the temperature.
Factors To Consider To Choose The Right Shade Sail Material
Choosing the right shade sail cloth fabric is essential to ensure that your shade sail meets your specific needs and performs well over time. Here are some vital factors to consider when selecting a shade sail cloth fabric:
The purpose of the shade sail cloth:A lighter material may be sufficient if the shade sail is intended for residential use. However, a heavier fabric may be necessary if the shade sail is designed for commercial use or in an area with high wind or rain.
The durability and quality of the shade fabric:Factors to consider include the fabric's tear and abrasion resistance, colourfastness, and resistance to mildew and mould.
The level of UV protection needed:Shade sail fabric is available in varying levels of UV protection. Choosing a material that provides sufficient protection for your needs is essential. The level of UV protection is typically indicated by UPF (ultraviolet protection factor) rating.
Colour options and aesthetic appeal:Shade sail cloth for sale come in various colours and patterns. Choosing a colour that complements your outdoor space's aesthetic can enhance the overall look and feel of the area.
Ease of maintenance:Some shade sail fabrics are easier to clean and maintain than others. Consider the maintenance requirements of the fabric and choose a material that fits your needs.
Keep these factors in mind and choose a shade sail fabric that meets your specific needs and performs well over time.
Final Words
Shade sail cloths are an excellent addition to any outdoor space, offering a range of benefits such as protection from the sun's harmful UV rays, rain, and wind. They also provide an aesthetic appeal to any space, making it more inviting and comfortable.
Investing in shade fabric is a wise decision that can provide long-term benefits, such as increased comfort, energy savings, and protection for your outdoor space. So don't hesitate to invest in shade sails and enjoy their many benefits!