How to start an SEO agency – Step-by-step Guide
Starting an SEO (search engine optimization), business can be a great opportunity for those who are passionate about digital marketing and want to help businesses improve their online visibility.
Here are five steps to help you get started:
Learn SEO
The first step to starting an SEO business is to learn SEO. You should have a deep understanding of SEO, including keyword research, off-page optimization, on-page optimization, manual link building, and content creation.
There are plenty of resources available to help you learn SEO, including online courses, blogs, and forums. Some of the best places to start include:
Moz's Beginner's Guide to SEO
HubSpot's SEO Training Course
SEMrush Academy
Google's Search Engine Optimization Starter Guide
By learning SEO, you'll have a solid foundation to build your business and be better equipped to help your clients achieve their goals.
Make your own website
Once you have a solid understanding of SEO, the next step is to create your own website. Your website will be the foundation of your SEO business, and it should showcase your skills and expertise.
When building your website, consider the following:
First, choose a domain name that is easy to remember and relevant to your business.
Select a web hosting provider and a content management system (CMS) such as WordPress or Wix to build your website.
Develop a clear and concise message that explains what your business does and how it can help your clients.
Optimize your website for search engines by implementing on-page SEO techniques, such as optimizing your titles, meta descriptions, and heading tags.
Make sure your website is mobile-friendly, as many people access the internet on their mobile devices.
By having a professional and well-optimized website, you'll be more likely to attract potential clients and establish credibility in the industry.
Define Your Target Market
Before you can start getting clients, you need to define your target market. Who are the businesses or individuals you want to work with? What are their pain points? How can you help them solve their problems?
Some questions to consider when defining your target market include:
What industries do you want to specialize in?
What size businesses do you want to work with?
What are the common challenges these businesses face?
What are the keywords they are using to search for SEO outreach cam paign providers?
Finally, what are the demographics of your ideal client?
Once you have a clear understanding of your target market, you can tailor your marketing efforts to attract those clients.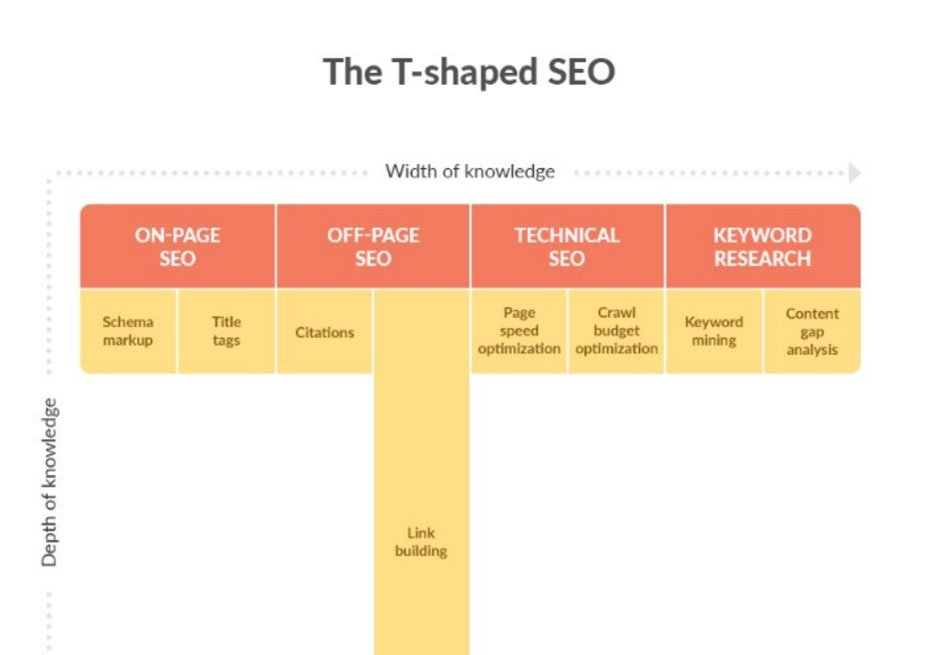 Also, once you know what you enjoy doing, the next step should be expanding your knowledge in that field. By doing so, you can become what Rand Fishkin refers to as a "T-shaped marketer," with both broad skillsets (represented by the horizontal bar of a T) and deep understanding in specific areas (represented by the T's vertical line). By possessing such expertise, you can craft unique offerings and establish yourself in niche markets for services provided.
Get Clients
Once you have defined your target market, it's time to start getting clients. Here are some strategies you can use to attract clients:
Networking: Attend industry events, join online forums, and connect with people in your target market.
Referrals: Ask your existing clients to refer you to their network.
Content Marketing: Create valuable content, such as blog posts and social media posts, that showcase your expertise and attract potential clients.
Cold Outreach: Reach out to businesses in your target market through email or LinkedIn.
Paid Advertising: Consider using Google Ads or social media ads to reach potential clients.
Remember to be persistent in your marketing efforts, and don't be afraid to try new strategies to see what works best for your business.
Scale your business
Scaling an SEO business involves taking a strategic approach to increasing revenues, client numbers, and team sizes. Here are some tips on how you can expand your SEO business:
Establish a Scalable SEO Process: In order to successfully expand your SEO business, it's necessary to establish a repeatable process that can be replicated for multiple clients. To accomplish this goal, standard operating procedures (SOPs) should be created and followed by your team in order to guarantee consistency of quality and output.
As your business expands, hiring more staff may become essential to managing its workload effectively. Hire SEO specialists, content writers, social media managers, project managers, and other specialists who will enable you to provide high-quality SEO services to clients.
Expand Your Service Offerings: One way to expand your SEO business is by broadening its service offerings, such as web design, social media management, and PPC advertising, among others. This will attract more clients while simultaneously increasing revenue.
Establish strategic alliances: Partnering with other businesses can help your SEO business expand. Consider teaming up with web designers, marketing agencies, or any other services that complement your services to provide complete solutions to clients.
Utilize technology: Technology can be an invaluable asset when it comes to streamlining SEO processes and increasing productivity. Utilize tools such as project management software, SEO tools, and automation software in order to streamline workflow and deliver better results to clients.
Investment in marketing: To expand your SEO business, it is crucial that you invest in marketing to attract new clients. Use digital strategies such as content marketing, social media marketing, and paid ads to reach your target audience and expand your business.
By following these tips, you can expand your SEO business and take it to new heights. However, always remember to put quality first and never sacrifice quality services in order to attract more clients.