What You Can Make With OSB3: 5 DIY Project Ideas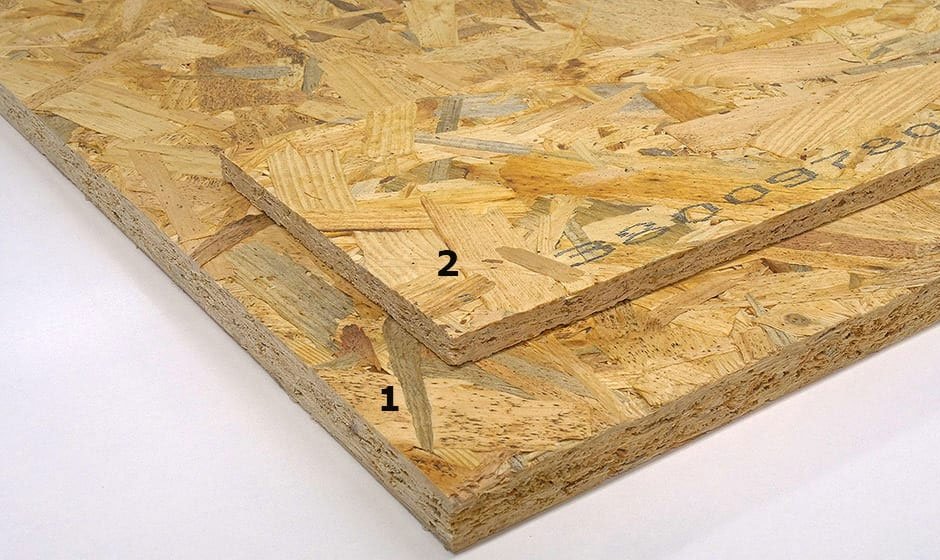 Are you wondering what you can make with OSB3? This versatile and affordable building material can be transformed into stunning custom furniture, home decor accents, rustic tables and shelves, bed frames with a unique touch, and even wall panelling and art.
In this article, we will explore five fantastic ideas for DIY projects using OSB3 that are sure to add a touch of style and personality to your living space. So grab some tools and get ready to embark on these exciting DIY projects – because, with OSB3, the possibilities are endless!
#1 Custom Furniture With OSB3
You can create unique and stylish custom furniture with high-quality OSB3 sheets, giving your space a one-of-a-kind charm that will leave you feeling proud and inspired.
OSB3, Oriented Strand Board 3, is engineered, durable and versatile wood. It compressed wood strands with an adhesive under high pressure to create a strong, sturdy board.
One idea for a DIY project using OSB3 is to build a modern coffee table. You can cut the OSB3 into the desired shape and size, then sand it to create a smooth surface. Add some hairpin legs or metal brackets for support, and you've got yourself a trendy coffee table that'll be the centrepiece of your living room.
Another idea is to make a bookshelf using OSB3. Cut the boards into various sizes and arrange them in an interesting pattern on your wall. Paint or stain the boards in any colour you like to match your decor style. This unique bookshelf will provide storage space and add visual interest to your room.
Using OSB3 for custom furniture projects allows you to design pieces that perfectly fit your space and reflect your personal style. Whether a coffee table, bookshelf, or any other furniture item, this versatile material allows you to unleash your creativity while providing durability and strength.
#2 Home Decor Accents With OSB3
Transform your living space with unique and stylish home decor accents crafted from the versatile OSB3 material. Here are three exciting DIY project ideas to get you started:
Floating Shelves:

Create sleek and minimalist

floating shelves

using OSB3 for a contemporary look. Cut the boards into desired lengths and attach them to the wall using sturdy brackets. These shelves provide functional storage and serve as eye-catching displays for your favourite books, plants, or decorative items.

Wall Art:

Make a statement with unique wall art made from OSB3. Cut the boards into various shapes and sizes, then paint or stain them in colours that complement your decor. Arrange these pieces on your wall in an abstract pattern or create a bold focal point by combining different shapes.

Planters

: Bring nature indoors by crafting stylish planters out of OSB3. Cut the boards into rectangular shapes and assemble them into boxes using wood glue and screws. Line the inside with plastic sheeting to protect against water damage, then fill them with soil and add your favourite plants or herbs. These planters will elevate your greenery and add an interesting texture to any room.
With its versatility and durability, OSB3 is an excellent choice for creating unique home decor accents that transform any living space into a stylish sanctuary. Get creative with these DIY projects and let OSB3 be the key ingredient in making your home truly one-of-a-kind.
#3 Rustic OSB3 Shelves
Create a cosy and rustic ambience in your home with beautifully crafted shelves made from versatile OSB3 material. 
These shelves can be mounted on the wall or placed on top of other furniture pieces, providing functionality and aesthetic appeal. You can customise the size and arrangement of the shelves to suit your needs and style preferences, creating a beautiful addition to your home and a handy storage solution.
With its natural wood grain texture and durability, OSB3 is an excellent choice for creating rustic tables and shelves that will stand the test of time. By incorporating this versatile material into your DIY projects, you can save money and infuse your home with a charming rustic vibe that'll impress guests and make you feel proud of your handiwork.
#4 OSB3 Bed Frames for a Unique Touch
Experience the ultimate blend of rustic charm and modern elegance by incorporating an OSB3 bed frame into your bedroom decor. With its unique texture, OSB3 adds a touch of warmth and character to any space.
Whether you prefer a minimalist design or a more intricate style, an OSB3 bed frame can be customised to suit your taste and preferences. Not only is an OSB3 bed frame visually appealing, but it's also durable and sturdy.
Made from oriented strand board, which consists of compressed wood strands bonded together with adhesive resin, OSB3 provides excellent strength and stability. Your bed frame will last for years, providing comfortable sleep and support.
Additionally, OSB3 is easy to work with, allowing you to create unique designs and shapes for your bed frame. So why settle for ordinary when you can have an extraordinary piece of furniture that showcases your individuality?
#5 OSB3 Wall Paneling and Art
Enhance the ambience of your space with stunning OSB3 wall panelling and art, adding a touch of contemporary elegance to any room. 
Its distinctive texture adds depth and character to any space, making it a perfect choice for those looking to make a statement in their home decor. One idea for using OSB3 as wall panelling is to create a feature wall in your living room or bedroom. 
By covering one wall with OSB3 panels, you can instantly transform the look and feel of the room. The natural wood tones of the OSB3 give off a warm and inviting vibe, while its durability ensures that your feature wall will stand the test of time.
Additionally, you can get creative with arranging the panels – the possibilities are endless, whether you choose horizontal or vertical placement or even opt for an abstract pattern.
In addition to using OSB3 as wall panelling, you can incorporate it into your home decor as art pieces. Cut out different shapes from OSB3 panels and paint them in vibrant colours for a modern twist on traditional artwork. 
These unique DIY creations can then be hung on walls or displayed on shelves to add visual interest and personality to your space. 
Whether you're going for a minimalist aesthetic or prefer bold and eclectic designs, incorporating OSB3 into your home decor will surely make a statement reflecting your personal style.
What Will You Make First?
So there you have it – five amazing DIY project ideas using OSB3! Whether you want to create custom furniture, add home decor accents, or even build a unique bed frame or wall panelling, OSB3 is the perfect material for all your creative endeavours.
We hope this article has given you some ideas on what you can make with OSB3. So why not give them a try? Get started on your next DIY adventure today and see just how amazing OSB3 can be. You'll be amazed at what you can create with this versatile material!