Creating a Resort-Style Patio with Outdoor Curtains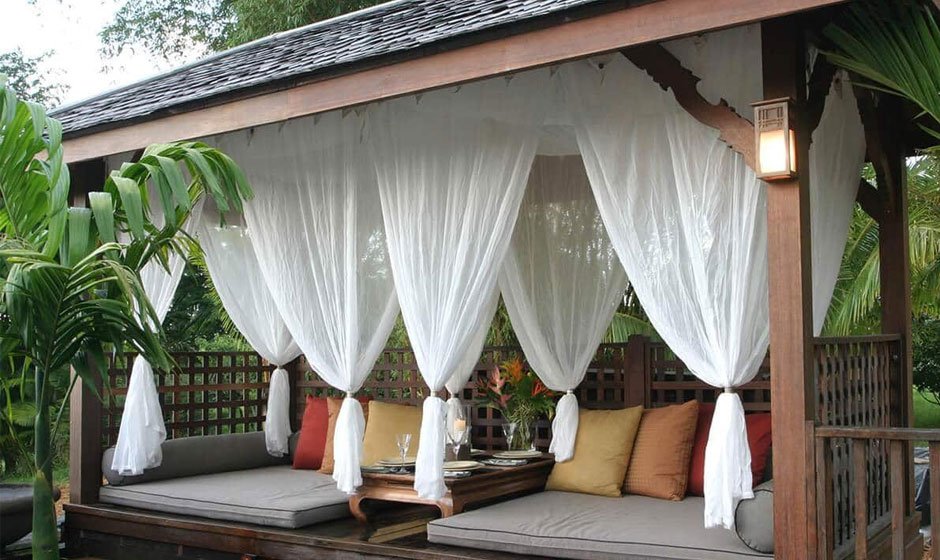 Outdoor spaces are no longer just an afterthought for homeowners. With more people staying at home and looking for ways to make the most of their outdoor areas, creating a resort-style patio has become a popular trend. One way to achieve this look is by incorporating outdoor curtains into your patio design. Outdoor curtains not only provide privacy and protection from the elements but also add an element of style and sophistication to your patio.
In this article, we will explore how to create a resort-style patio with outdoor curtains. We will cover everything from choosing the right curtains to installing them and adding the finishing touches to complete the look.
Choosing the Right Curtains
When it comes to choosing the right curtains for your resort-style patio, there are several factors to consider. The first consideration is the style of your patio. Do you have a modern, minimalist patio, or a more traditional one? This will help you determine the style of curtains that will work best.
The next consideration is the color and pattern of the curtains. If you have a neutral patio, you can add a pop of color with bright, vibrant curtains. If you have a patio with a lot of color and pattern, you may want to choose a ssolid-colored curtain to balance out the space.
Finally, the material of the curtains is an important consideration. Look for outdoor patio curtains made from weather-resistant materials like Sunbrella or other durable outdoor fabrics that are water-resistant, UV-resistant, and fade-resistant. These materials will ensure that your curtains last for years and maintain their appearance.
Measuring and Installing the Curtains
Once you have chosen the right curtains for your patio, it's time to measure and install them. Start by measuring the length and width of the area where you want to hang the curtains. Add a few extra inches to the length to ensure that the curtains reach the ground and provide full coverage.
Next, install the curtain rods according to the manufacturer's instructions. Hang the curtains on the rods and adjust them as necessary to ensure they are straight and evenly spaced.
Choosing the Right Rods and Hardware
Choosing the right rods and hardware is an important step in creating a resort-style patio with outdoor curtains. Look for high-quality, durable rods and hardware that can withstand the elements. Stainless steel, aluminum, or wrought iron are great options for rods and hardware that are both durable and stylish.
When it comes to hardware, consider using decorative finials to add a touch of elegance to your curtains. Tiebacks can also be used to keep the curtains in place and add visual interest to your patio.
Adding Lighting for Ambiance
Adding lighting to your patio can make a significant difference in creating a resort-style atmosphere. Outdoor lighting not only illuminates the space but also adds a warm and inviting feel to the area. There are many options to choose from when it comes to outdoor lighting, including string lights, lanterns, and built-in fixtures.
String lights are a popular choice for outdoor patios, as they are easy to install and can create a cozy and intimate setting. They come in a variety of styles and colors, from classic white to colorful and festive. You can hang them along the perimeter of your patio or string them across the space for a more dramatic effect.
Lanterns are another great option for outdoor lighting. They come in various sizes, shapes, and styles, from traditional lanterns to modern and contemporary designs. Lanterns can be hung from the ceiling or placed on tabletops, providing a soft and warm glow to the area.
Built-in fixtures, such as recessed lighting, can provide a more polished and sophisticated look to your patio. They are ideal for larger spaces or areas where you need more focused lighting, such as over an outdoor kitchen or dining area.
In addition to the type of lighting, the placement of the fixtures is also important. You can use lighting to highlight specific areas of your patio, such as a seating area or a water feature. You can also use lighting to create a pathway or guide guests through the space.
When it comes to lighting your outdoor patio, consider using a combination of different types and styles to create a layered and dynamic effect. Be sure to choose fixtures that are designed for outdoor use and can withstand the elements, such as rain and wind.
Incorporating Outdoor Furniture
To complete the resort-style look, incorporate outdoor furniture into your patio design. Look for furniture that is both stylish and comfortable, such as outdoor sofas, chairs, and chaise lounges. Wicker, rattan, or teak furniture are all great options for creating a tropical, resort-like atmosphere.
Adding Decorative Accents
To add the finishing touches to your resort-style patio, consider incorporating decorative accentsHere are some other tips for creating a resort-style patio with outdoor curtains:
Add Mood Lighting: To create a warm and inviting atmosphere, add some mood lighting to your patio. String lights or lanterns can be hung from the outdoor curtains or draped across the space. You can also incorporate LED lights into your curtains for a stunning visual effect.
Use Potted Plants: Potted plants are a great way to add a touch of greenery and life to your patio space. You can choose plants that match the color scheme of your curtains or go for something bold and eye-catching. Try grouping plants of different sizes and heights to create a layered and lush look.
Incorporate Water Features: Nothing says luxury and relaxation like the sound of running water. Consider incorporating a water feature, such as a fountain or small pond, into your patio design. The sound of the water can help to drown out any unwanted noise and create a tranquil ambiance.
Don't Forget the Comfort: The most important part of creating a resort-style patio is ensuring that it's comfortable and inviting. Invest in comfortable outdoor furniture and add plenty of soft cushions and throws. Consider adding a fire pit or outdoor heater for chilly evenings, and don't forget to provide plenty of shade with your outdoor curtains.
In conclusion, outdoor curtains are an excellent addition to any patio, and with a little creativity and planning, they can be used to create a stunning resort-style space. By choosing the right fabric, incorporating bold colors and patterns, and adding mood lighting, plants, water features, and comfortable furniture, you can transform your outdoor space into a luxurious and relaxing oasis