Barron Trump's Height and New Haircut: A Glimpse into the First Son's Growth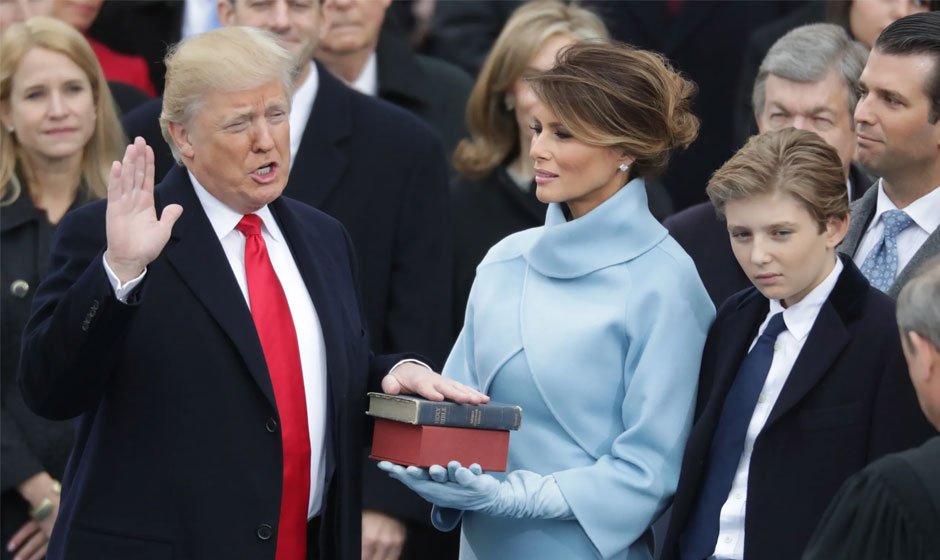 Introduction
In recent years, the public has witnessed Barron Trump, the first son of Donald Trump, growing up right before their eyes. However, due to the customary privacy surrounding the children of American presidents, little has been seen or heard about the now 13-year-old Barron since his father assumed office. Nonetheless, those who have been paying attention have noticed some noteworthy changes in Barron's appearance and style.
A Change in Height and Haircut
Returning to the White House after a weekend at the Trump golf resort in Bedminster, New Jersey, President Trump, First Lady Melania Trump, and Barron caught the attention of White House press photographers. It was evident that Barron had experienced a significant growth spurt; he now stood slightly taller than both his parents, surpassing even the height of his mother, who is known for her customary five-inch stilettos. Notably, President Trump stands at an impressive 6 feet 3 inches.
Additionally, Barron's haircut had undergone a transformation. His new style featured shorter sides, while the top remained longer but shorter than his previous cuts. This updated haircut presented a more modern and fashionable look for the young Trump.
The Contrast in Pictures
Comparing recent photographs with images taken prior to Barron turning 13, one can observe a noticeable difference in his height. However, the most striking contrast can be observed when examining pictures from the Trump inauguration ceremony on January 20, 2017. Over time, Barron's lanky frame has gradually approached basketball-level height, further highlighting his growth spurt.
Barron Trump's Interests
Beyond his physical transformation, Barron has exhibited interests and talents of his own. Attending a private school in Potomac, Maryland, located approximately 20 miles from the White House, he is known to be an enthusiastic soccer player. As his height continues to increase, some Twitter users humorously speculated about NBA scouts taking notice of his potential in the sport.
The Mystery of Growth
With Barron's rapid growth catching the attention of many, Twitter users jokingly pondered whether the United States government possessed a secret growth formula. However, the White House remained silent on the matter, adhering to its customary "no comment" rule when it comes to media coverage of presidential children. Typically, pictures of the first family's children are off-limits, except when they appear in public with their parents, as Barron did during his recent walk to Air Force One.
Conclusion
Barron Trump's height and new haircut have provided a glimpse into the development of the first son. As he continues to mature, it remains to be seen how his physical appearance and interests will evolve. Nonetheless, Barron's growth has not gone unnoticed, prompting admiration and curiosity from the public.