Why Would We Need a ChatGPT Chrome Extension?
Installing Chrome extensions is known to be a great way to increase productivity and simplify numerous tasks on your desktop browser. These plug-ins essentially serve as add-ons that can help optimize your overall browsing experience by introducing added features and capabilities. And one of the most popular extensions that's gaining traction in the current market is this all-in-one ChatGPT chrome extension for the web.
The plugin taps into the powerful capabilities of ChatGPT's 3.5 and 4 AI models and allows you to access them directly via your web browser. As a result, you are able to better manage your daily writing tasks such as composing & revising content, as well as researching information without having to alternate between multiple tabs. And since the toolbar provides access to 120+ writing tools, it is the perfect all-in-one writing assistant.
What Features Does a ChatGPT Chrome Extension Offer?
Loaded with numerous benefits and capabilities, installing a ChatGPT Chrome Extension like the one from HIX.AI can enable you to optimize your writing within a few clicks. Content tasks that may have previously taken you hours to complete can now be handled in a matter of minutes. Some of the main features that such a tool can offer you include:
Intuitive AI Chat: It can often be tedious having to alternate from one Google search tab to the next trying to gather accurate information. However, with a ChatGPT Chrome Extension, you can instantly get up-to-date answers to difficult queries and even get clear explanations of complex terminologies without ever leaving the page you're on.
Multilingual Support: The problem with using traditional translators is that they are often unable to provide you with accurate translations of technical terms, idiomatic expressions, and cultural elements. However, with these tools, they can understand the nuances of different languages, thereby maintaining context and grammar accuracy.
Tailored Writing Inputs: With this extension tool, you can easily select your own inputs such as language, length, tone of voice and more to craft personalized content that is relevant to the recipient or audience. This makes it ideal for those who may need help with coming up with social media posts, email responses, blog posts, etc.
Writing Enhancement Suggestions: With a ChatGPT extension in place, you can be sure that you will be consistently provided with practical suggestions to help improve vocabulary, grammar and sentence structures, as well as useful ideas on how to enhance or expand your content should your ever find yourself stuck.
Content Summarization: A ChatGPT extension can also help you to instantly condense lengthy text into shorter briefs with a single click. And the best part is that you can even select your desired inputs to tailor the summary to fit your exact needs, be it bulleted lists, short paragraphs, etc. This can be especially useful when crafting FAQ lists.
How Can a ChatGPT Chrome Extension Impact Your Workflow?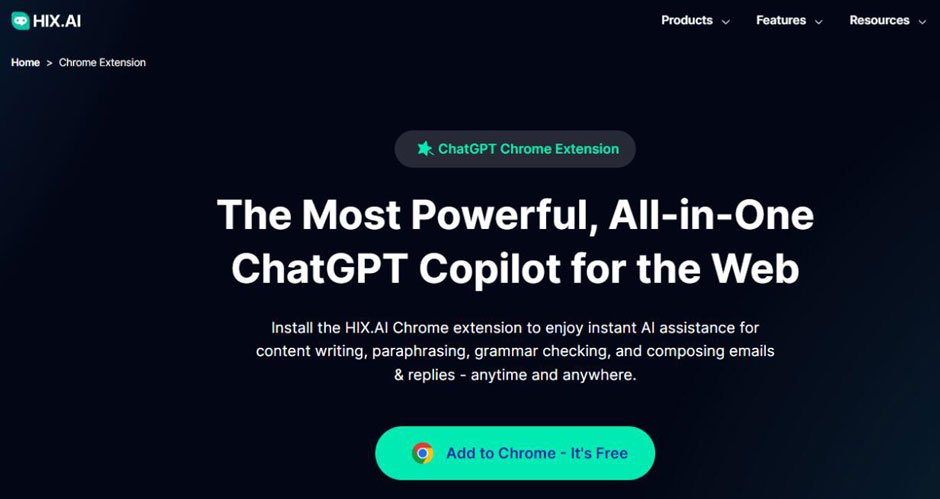 Installing a ChatGPT Chrome Plugin from HIX.AI's platform can provide you with a multitude of benefits. For starters, it will significantly boost your productivity by significantly reducing the amount of time and effort that you need to invest in your writing tasks. With just a few clicks, you can compose entire blog articles, personalised emails, or social media posts with minimal effort.
Aside from that, they can help you to conduct more accurate and efficient research by providing you with precise and up-to-date answers to any type of query that you may be curious to know. This can help to improve the quality of your output, especially when it comes to handling tasks like essays, news articles, etc.
In addition, the AI-generated suggestions that the extension provides can help you to not only improve your content but even your own writing skills over time. This can mean getting insights that educate you on even more appropriate or contextually accurate phrases, wordings, sentence structures, synonyms, etc.
How Does the ChatGPT Chrome Extension Work?
Powered by GPT-3.5 and 4, HIX.AI's extension tool offers access to the latest and most advanced NLP models that are available to use in the current market. The first step is installing the plug-in to your Chrome browser, which is a straightforward process, as you only need to head to the site's website.
Click the "Add to Chrome" button, which will direct you to the Chrome web store and within seconds, it will be downloaded onto your browser. Once installed, the tool is designed to stay out of your way until you really need it and activation can be done by simply pressing CTRL + P on Windows or Command + P on Mac.
You will instantly have access to over 120 writing tools that you can use to either craft new content copy or refine your already existing content in record time. And since it works on all browser windows, this means that you can access various features of the plugin even while working on Gmail, Yahoo, WordPress, Google Docs, Twitter, Instagram, etc.
By integrating this plugin tool into your main browser, you should have an easy time generating new content, summarizing long articles, translating text, understanding complex wording, and even accessing new information without your workflow being interrupted.
Best Practices When Using a ChatGPT Chrome Extension?
Once installed, the use of a ChatGPT Chrome Extension can often be a relatively simple process. However, it is important that you also keep a few things in mind if you want to extract the absolute maximum out of this tool and improve your writing quality even further.
For one, you should always aim to use short and precise prompts when asking the chat tool for information. The more concise and straight to the point you are with what you need, the more accurate it will be. Otherwise, you will end up with a general response that is either insufficient or even irrelevant.
Furthermore, you should always take care to proofread and edit any generated content because while these tools are advanced, they are not 100% foolproof. After all, they are still machine-based, which means that they can sometimes fail to craft sentences or convey them in a manner that feels or sounds natural. This can result in certain texts being lost in translation or even failing to make contextual sense.
It is also good practice to try and experiment with different generated copies, rather than settling for the first thing that the tool produces. For instance, if you want to rewrite a block of text, you can re-use the AI editor more than once to see if an even better result pops up. In some cases, you can even mix the different variations to create an entirely original and well-polished line of text.
Conclusion
The ChatGPT Chrome Extension from HIX.AI can be an extremely powerful tool that improves the speed, accuracy, and quality of your writing without ever having to leave the webpage that you're currently on. However, at the end of the day, the quality of the results will often depend heavily on the type of tool that you use, which is why you should use HIX.AI.
From brainstorming blog content ideas to crafting personalized emails to refining your prose, this tool can be the trusted all-in-one companion that you need to achieve a compelling and polished final copy. Plus, their extension tool can be seamlessly integrated into your browser, so you don't need to worry about overly technical specs interfering with your writing experience.